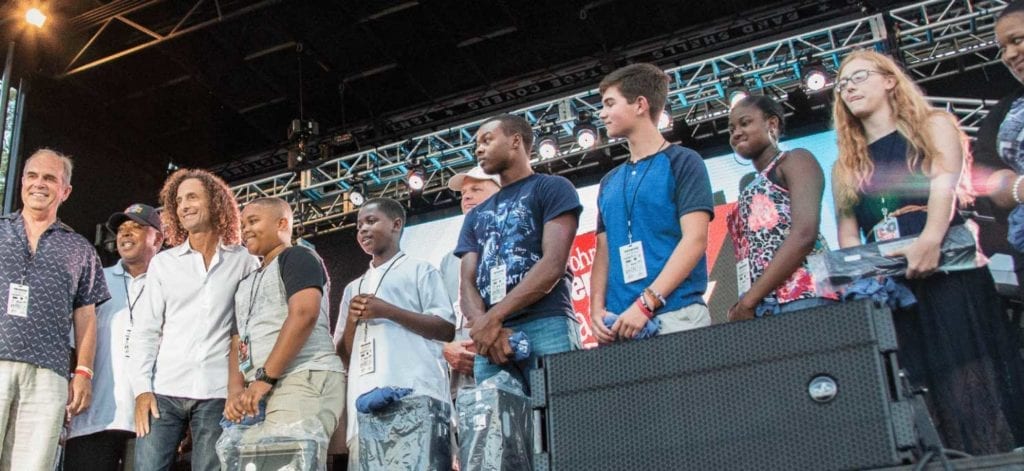 It has been documented that the benefits that come with a concentration in music education positively affects study habits for young students. That is why the Student Essay Contest is an important part of the John Coltrane International Jazz and Blues Festival. It is the way the Friends of John Coltrane, Inc. connects Coltrane's master musician and composer legacy to the community of young people seeking to continue a music education.
Students are asked to submit a video or a written essay explaining their music aspirations, affinities and needs. Winners receive a free instrument of their choosing. To date, we have awarded almost 100 instruments to aspiring students at a retail value of over $135,000.
Only students enrolled in a North Carolina middle or high school are eligible to participate. Students can choose one of the three following options to submit an entry:
Upload Video Option – Record and upload video responses.
Written Essay Online Option – Upload a 100-250 word, typed, double spaced written essay, with a photo.
Written Essay Mail in Option – Mail a 100-250 word, typed, double spaced written essay with a photo to Student Essay Contest, c/o Friends of John Coltrane, P.O. Box 2392, High Point, NC 27261.
---
Brand new prize instruments are presented, on stage, to middle and high school students who submit the winning entries. The prizes are made possible by Bill Banks, Joe Williams, and KHS America, Inc., an instrument manufacturer along with local sponsors. Each year, one of the festival headliners joins the students on stage to encourage them in their studies and give advice for developing a career in music.
---