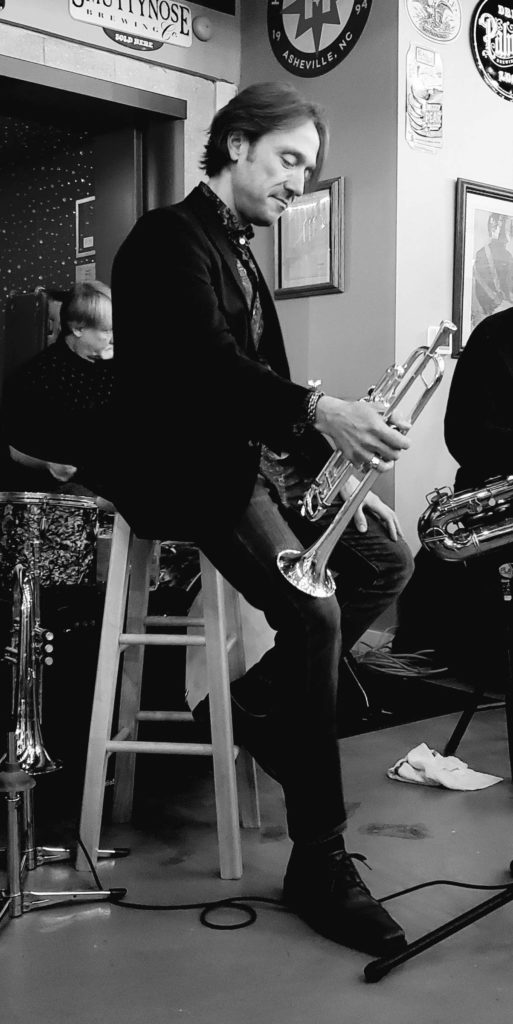 The festival resumes its commitment to promoting High Point's homegrown talent with the city's eponymous Coltrane All-Star Band. This ever-changing orchestra brings together artists who continue to make an impact on the city's musical culture and a name on the national music scene. Returning to the festival, this time as leader of the High Point Coltrane All-Star Band is Dustin Jennings, a seasoned horn section leader who has performed with various groups and on numerous recordings. Dustin received a Bachelor of Science degree in music education from North Carolina A & T State University. Some of his accolades include trumpet solo chair in the 2009 HBCU All Star Big Band, which performed for the International Association of Jazz Educators conference in Montreal and being inducted into the 2013 Beach Music Hall of Fame as a member of the Part-Time Party Time Band.
On stage he will be joined by:
Paul Foster – Bass: Bassist Paul Foster earned his degree in music from North Carolina A&T University where he was also the arranger for its world-renowned marching band. As a professional musician and bandleader, Paul has performed at major colleges and universities, country clubs, hotels and nightclubs from San Juan to San Francisco, from Montreal, Canada to Cologne, Germany. His bands have opened for the Supremes, Tina Turner, to name a few. Paul has accompanied major performers such as Frank Foster, Jimmy Heath, Shirley Caesar, Charlie Byrd, Roy Clark, Lou Donaldson, Tom Browne of "Jamaica Funk" fame, Bobby Irvin, the Drifters, The Time, USAir Jazz Orchestra, Crosby Clambake Orchestra, and a host of others.
Julian Allred – Drums: Julian is a 22 year old drummer from High Point, North Carolina who has been playing since the age of two. A graduate of NC A&T State University with a Bachelor's degree in music performance, Julian aspires to enhance his craft by touring with major artists and performing alongside talented performers who share his love for music.
Brandon Mitchell – Vibraphone: Originally from Washington DC, Brandon Mitchell is a vibraphonist and music educator based in North Carolina. He is currently an adjunct professor at Wake Technical Community College as well as a drum and piano private lesson instructor. Mitchell is making his mark in the music scene with his rhythmic and melodic tunes on the vibraphone. His music style can be described as conversational–he leaves enough space and room to breathe so the listener can easily follow along. Mitchell honed his musical technique while completing a Master of Arts in Jazz Studies at North Carolina Central University and a Bachelor of Arts in Percussion Performance at Elon University. Over the course of his career, Mitchell has performed in several states along the east coast including Florida, Georgia, Maryland, North Carolina, New Jersey, South Carolina and Virginia. He has also had the opportunity to take his musical talents overseas. Mitchell graced stages abroad while touring in Italy, specifically at the Jazzit Festival, Teatro Piccolo in Milan, as well as Notte Bianca performance in front of the Duomo. He has also performed alongside some of the industry greats including Branford Marsalis, Joey Calderazzo, Jon Metzger and John Fedchock.
Bob Sanger – Piano: If you live in the Triad, you will recognize the name Bob Sanger. His piano playing has been a fixture in the Triad jazz community for decades. You might catch him playing with some other local talents such as Joe Robinson, Janice Price, Matt Kendrick, Rob Massengale and Soul Central. He also has the proud distinction of being the pianist of choice for the late songstress Melva Houston. Although concentrating in jazz stylings, Bob's talents are all-encompassing. Beginning as a classical student, then progressing into other genres, Bob's music has influences from classical and modern jazz to rock, pop, blues and soul. His original arrangements and songs are well worth a listen. You can find some of them on his CD Bob Sanger Trio – No Words. Bob's experience as a performer is impressive, playing with such greats as Tom Browne, Nat Adderley, Jaco Pastorius, Dave Leibman, Roy Clark, Bobby Keys and Marlena Shaw. He has also been heard with the well-known Shirelles, Marvelettes, Platters, Drifters and Coasters.