Tito Puente, Jr. with special guest Melina Almodovar
Popular salsa singer, songwriter and dancer Melina Almodovar, who is known as "La Muñeca de la Salsa – the Salsa Doll" will perform with Tito Puente, Jr. as his special guest on Sunday, Sept. 5, 2021 for the 10th John Coltrane International Jazz and Blues Festival.           
Melina Almodovar's Eclectic Influences
Almodovar was born into a family of performing and visual artists in Puerto Rico.  After her father died, her mom remarried and moved to the U.S.  Almodovar listened to cassette recordings of Ruben Blades and Celia Cruz sent to her by her grandmother while an adolescent living in Memphis, TN where she discovered her natural affinity for salsa, tropical music and merengue. By being in Memphis, she also absorbed the soul sounds of Otis Redding, Al Green and the Staple Singers. 
Home Called
She studied music performance at the University of Memphis and formed the Orquesta Caliente which grew in reputation playing clubs on the local scene and around the southeast. They were the first Latin band to play on the famed Beale Street in Memphis. Melina Almodovar returned to Puerto Rico where she focused on developing her craft in salsa music. She traveled the expanse of her birthplace; listening to music, experimenting with sounds, and learning how to sing and dance salsa. Almodovar settled in Miami, FL where she maintains a busy performing and recording schedule.  She also produces salsa festivals through her production company.
Her collaboration with Tito Puente, Jr. began when he sat in with her band at a local club in Nashville, TN. They began a collaboration when Puente, Jr. invited her to sing the lead on a remake of "Mi Socio," a song originally recorded by his father on the 1965 album "Tito Swings-The Exciting Lupe Sings." Puente Jr. and Almodovar have been a much sought-after duo since then.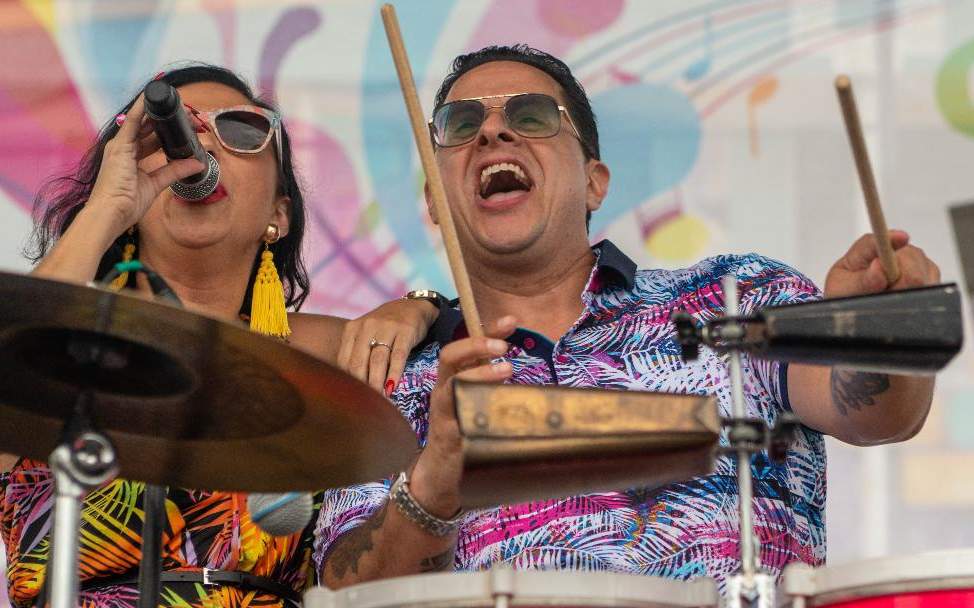 Tito Puente, Jr. with special guest Melina Almodovar perform a dynamic mix of classic Latin Jazz styles of merengue, salsa and mambo fused with the rhythms that have gained contemporary popularity including cumbia, reggaeton and bachata.  The duo and band have become an audience favorite in casinos, performing arts centers, symphony halls and jazz festivals worldwide.