Tito Puente, Jr. with special guest Melina Almodovar
Latin Jazz is widely popular with the fans who regularly attend the festival. Tito Puente, Jr. with special guest Melina Almodovar will bring the Latin Jazz rhythms on Sunday, Sept. 5, 2021 for the 10th John Coltrane International Jazz and Blues Festival.
Tito Puente, Jr. Royal Heir
He is the son and musical successor of the late Tito Puente, six-time Grammy Award winning percussionist, bandleader and composer, who was known as the "King of Latin Music". The comparison is inevitable. How could it be otherwise? Like his father, Tito Puente, Jr. plays timbales. His father is imprinted on the son's physical being and locked in his soul. It's in his looks, his joy, and his music. The younger Puente refuses to let his father become a distant memory. "He was just too vibrant, too exciting," Puente, Jr. said. "There was magic in the music my father made. It made people happy all over the world." The young Puente has found kindred audiences who echo his passion. Crowds lured to a venue by the father are returning to see the son — and to once again participate in the high voltage celebration that takes place on stage.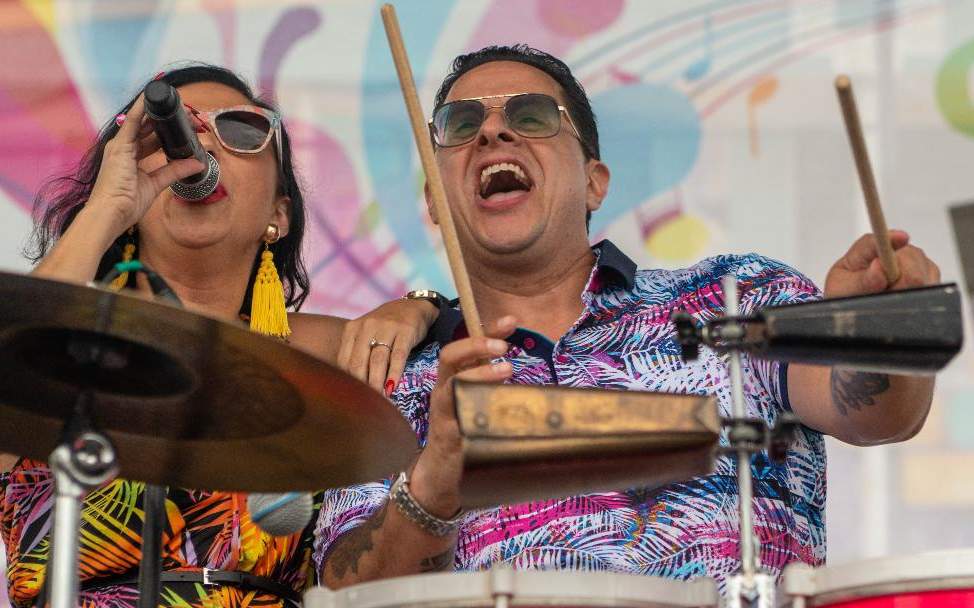 Let's Mambo!
Tito Puente, Jr. with special guest Melina Almodovar perform a swinging, dynamic mix of
classic Latin Jazz styles of merengue, salsa and mambo fused with the rhythms that have gained contemporary popularity including cumbia, reggaeton and bachata. The duo and band have become an audience favorite in casinos, performing arts centers, symphony halls and jazz festivals worldwide, performing more than 300 shows over the past five years. The 2004 album, "In My Father's Shoes" featured the classic Puente titles including "Oye Como Va" which was written and first recorded by his dad in 1962. Later the results of the son's album was spun into a BET Jazz television special of the same name. Other releases include Puente, Jr.'s debut "Guarachando" in 1996; "Sounds of the Latin Flow" in 2009, 2010's "Got Mambo?" and "Sientelo" in 2014.
Tito Puente, Jr. with special guest Melina Almodovar revere the magnificent, lasting impact the senior Puente had. "People who don't know anything about Latin music know my father and people always, always smile when they say my father's name," Puente, Jr. said. "That is a very special gift I have been given."