When vocalist Michelle Coltrane performs at this year's John Coltrane International Jazz and Blues Festival she will be backed by the Piedmont Triad Jazz Orchestra and joined by High Point, native son Jason Palmer.  It's a threefold music experience rare for jazz festivals in North Carolina, combining the talented musicianship of artists with deep ties to the local community, but whose notoriety reaches well beyond regional boundaries. 

People did not know what to expect from vocalist Michelle Coltrane when she took the stage at the 2018 Coltrane Jazzfest in High Point, NC. She established an instant rapport with the audience once her luminous sound settled over the crowd. It was clear that although descendant of jazz royalty, Michelle Coltrane was musician with her own voice.

She is the daughter of Alice Coltrane, jazz pianist who, as a harpist, broke new ground in the jazz lexicon for that instrument and step daughter of saxophone, composer and jazz icon, John Coltrane, for whom the festival is named. The example her parents set as musicians and as people inspired their daughter to be her authentic self as an artist. "My goal is to uphold the same artistic integrity that my parents did," she has said.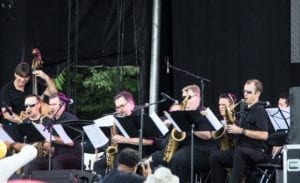 The Piedmont Triad Jazz Orchestra (PTJO) present the perfect support for Michelle Coltrane's voice. The group has performed together since 2014. They're dedicated to advancing the traditions molded by the great big band composers like Duke Ellington and Count Basie. PTJO is a cross-generational ensemble, comprised of some of North Carolina's finest and most respected jazz educators, music professionals, and up-and-coming young artists. Chad Esby is the artistic director and Saxophonist Wally West is the administrative director.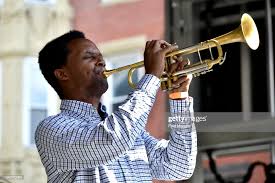 West taught trumpeter Jason Palmer when he was a student musician growing up in High Point, NC. Palmer, now based in Boston, enjoys an astounding reputation in the music industry and the worldwide jazz community. In addition to performing on over 40 albums as a sideman, he has recorded 13 albums under his own name as a leader. Four of his recordings have been reviewed by Downbeat Magazine, all rated no less than 4-stars by the prestigious jazz publication.

The combination of Michelle Coltrane, PTJO and Jason Palmer performing together, live is something that should be missed. Their set will be Sunday, Sept. 1st in Oak Hollow Festival Park, High Point, NC.