NC Coltrane All Star Band 2021 Lead by Al Strong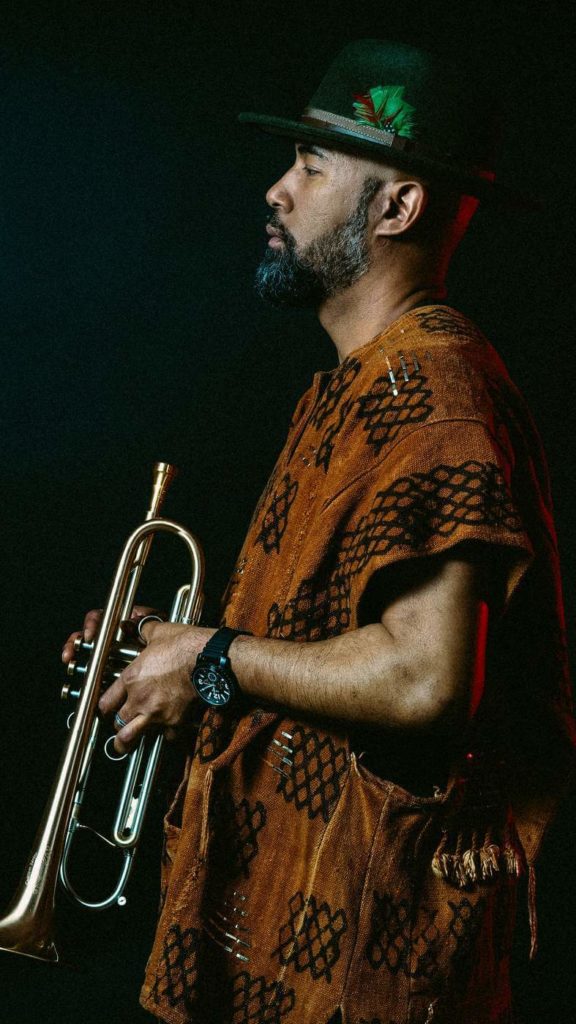 The festival continues its long-standing tradition of celebrating local talent with the NC Coltrane All Star Band on September 4th. This ensemble comprises artists from across the state who have made a remarkable imprint on the local music scene as well as tremendous strides in the national arena. Set to lead this brilliant lineup is Durham-based trumpeter and composer Al Strong.
Whether as co-founder of The Art Of Cool, a non-profit and music festival that promotes jazz-influenced music or as an educator, Al Strong continues to present and promote music in a way that uplifts the community. His musical career has afforded him the opportunity to perform with Aretha Franklin, The Count Basie Orchestra, Dwele, Eric Roberson and the Hamiltones, and the pleasure of performing for Branford Marsalis, Clay Aiken and Linda Eder. Joining him on stage are:
Tamisha Waden – Vocals: Tamisha is a NC native songwriter, recording artist and co-collaborator with the Grammy nominated group The Foreign Exchange. She appears on multiple works including their latest studio effort "Tales from the Land of Milk and Honey." She has also shared the stage with a number of jazz/soul/R&B legends, and even appeared on NBC's Late Night with Seth Meyers with Verve Records recording artist Hiss Golden Messenger.
Charlie Smarts – Vocals/Emcee: Charlie is an emcee that has made a name for himself in NC with his group Kooley High. He relocated to Brooklyn to create his signature pieces that include rapping as well as singing. In 2020, Smarts released a solo album called "We Had A Good Thing Going" to critical acclaim.
Collin Wiliams – Alto Sax: Collin Williams is an accomplished saxophonist hailing from Durham, North Carolina by way of Charlotte. A recent two-time graduate of North Carolina Central's (NCCU) Jazz department, Collin studied saxophone under the instruction of renowned saxophonists and educators Dr. Ira Wiggins and Dr. Brian Horton. Collin's 18 year-long career has led him to play a range of musical situations including military bands, jazz/big bands, wedding bands, and church/gospel bands. His connection to NCCU has also landed him performances with many other renowned artists and groups native to NC, like trumpeter Al Strong, Soul Understated ft. Mavis Swan Poole, Marcus Anderson and more.
Shaena Ryan-Martin – Baritone Sax: Martin is a saxophonist, composer/arranger, and educator native to Richmond, VA. She experimented with the keyboard as a child, picking out melodies by ear, and joined the band and choir as soon as she had the opportunity. After playing clarinet throughout grade school, she switched to alto and baritone saxophones at Duke University. Upon graduating with a bachelor's degree in Psychology and Music, she realized she wanted a career in music, and obtained a Master of Music degree in Jazz Performance from North Carolina Central University. Shaena has since become a part of the Raleigh-Durham music scene, performing and recording a range of musical styles including jazz, salsa, top 40s, Brazilian, and reggae. She has also toured nationally and internationally, sharing the stage with Ellis Marsalis, Delfeayo Marsalis, Branford Marsalis, Harry Connick, Jr., The Count Basie Orchestra, Cyrus Chestnut, Nnenna Freelon, John Brown and Fred Wesley. She can be heard on the Nnenna Freelon and the John Brown Big Band album Christmas, Al Strong's Love Strong: Vol. 1, Lenora Helm and Tribe Jazz Orchestra's For the Love of Big Band, and Keenan McKenzie's A Bull City Holiday. Currently, Shaena is working on various writing and arranging projects and teaches woodwinds and piano students of all ages.
JC Martin – Guitar: Born into a military family, JC Martin discovered his gift for guitar in high school and honed his talent by playing with various go-go bands in the Washington D.C. area As a student at North Carolina Central University, he became one of the most sought after guitarists in the area, eventually leading to playing with a plethora of great musicians such as Branford Marsalis, Burning Spear, Foreign Exchange, Who's Bad: The Ultimate Michael Jackson Tribute Band and many others. "I realized that playing the instrument wasn't enough, you have to become something special. You always have to give it your all, everyday, even when you don't care. You never know who's listening that day," said Martin.
Mario Escobar
Butler Knowles – Bass: Butler Knowles, a North Carolina native, is a multi-instrumentalist with a focus on bass (electric/upright/moog/tuba). Knowles has performed in many jazz clubs in the Northeast, such as Dizzy's, Smalls, 55 Bar and Scullers, and has held several residencies at The Black Cat in San Francisco. His influences in jazz, R&B, rock, folk, and hip hop have afforded him the opportunity to work throughout the East Coast.
Dorien Dotson – Drums: A drummer, composer, teacher and band leader from Kinston, NC, Dotson has a very eclectic and wide-ranging arsenal in his musical approach. In addition to co-leading a jazz-soul-hip hop ensemble entitled Young Bull Music, he has worked as a longtime sideman for the Al Strong Quartet, Trio, and Quintet, JC Martin Trio, and Sam King's Chicken N' Mumbo Sauce Trio/Quartet. Dotson has performed alongside many music industry giants such as Delfeayo Marsalis, Ellis Marsalis, Nate Smith, Branford Marsalis, Joey Calderazzo, Lalah Hathaway, Nnenna Freelon, John Fedchock, Jimmy Heath, Antonio Hart, Frank Lacy, Solomon Fox, Sarah Patridge, Ron Carter, among others. Dotson has earned his degree from North Carolina Central University (BM) in jazz studies with a focus in jazz drum-set, composition, and orchestral percussion.